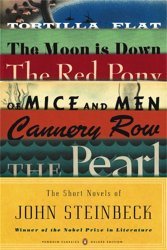 No one would agree more than John Steinbeck that a good book has the ability to inspire, mend, delight, and even educate. It is no wonder Steinbeck's characters, so elegantly penned in 'Of Mice and Men'; 'East of Eden'; and the Pulitzer prize-winning,'The Grapes of Wrath', strike such a harmonious chord.

A successful work need affect the reader in some way, evoking positive or negative emotion, ideally both. Flat characters, a tired plot, an unimaginative or nondescript setting alienate a writer's audience, oftentimes by the end of the first chapter.

Many authors of YA fiction believe that too much description, particularly surrounding the main character, is literary suicide. Why? Because a substantial portion of young adult readers often envision themselves as the principal player. This is specifically true of prose written in first person. What to do? A good writer strives for an ideal balance: a mostly featureless description of the protagonist, offsetting this with well-defined character traits.

So, while waiting for winter to surrender to spring, why not curl up with a good book and soak up a little motivation, therapy, joy, and discovery?
​