A Brief Biography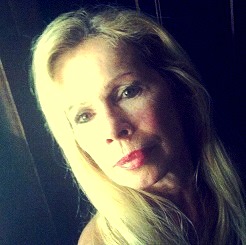 Trading-in her Kevlar vest and Glock-19 for a cowboy hat and spurs, Woodling sent Detective Mike Malone (the protagonist in
Write Off
and
Final Claim
) packing and wrote her first historical romance,
Shannon's Land
(SynergEbooks). Incorporating more than a few plot twists, Woodling apparently found it impossible to abandon mystery and mayhem altogether.
After completing the sequel,
Shannon's Revenge
, earlier this year,
​The Copperfield Review
(a prestigious literary journal) chose to highlight an excerpt in the 2017 Spring Edition: (
http://copperfieldreview.com/?p=3260
). \
Woodling has also written two YA novels. When asked about her creative process, she admits to a few props. With pom-poms nearby, a wad of Double Bubble parked inside a cheek, and headphones blasting Ariana Grande, she gave readers
Slices
, but states she added a wooden stake and a garlic clove during the creation of
The Turning of Nick Torok
.
She currently resides in Missouri with two cats, two horses, and a husband who sometimes resents Detective Mike Malone and has always held a grudge against Luke Richards, the lead male character from
Shannon's Land
and
Shannon's Revenge.
Prior to embarking on a writing career, the author was a celebrated entertainer throughout the Midwest.
In 2016, following the death of her beloved Labrador Retriever, the author established
Annie's Gift
, a cause benefiting Animal Shelters.